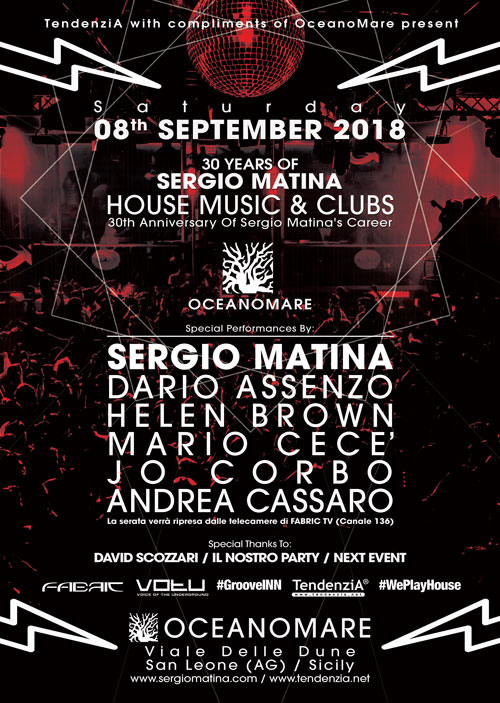 30 Years Of Sergio Matina @ OceanoMare

| | |
| --- | --- |
| | 2018-09-08 |
| | 23:00 |
| | San Leone (AG) |
| | OceanoMare |
| | Google Map |
30 YEARS OF SERGIO MATINA @ OCEANOMARE!!!
TENDENZIA with compliments of OCEANOMARE
present
SATURDAY SEPTEMBER 08th, 2018
30 YEARS OF SERGIO MATINA
HOUSE MUSIC & CLUBS
30th Anniversary Of Sergio Matina's Career
Special Performances By:
SERGIO MATINA (www.sergiomatina.com)
DARIO ASSENZO
HELEN BROWN
MARIO CECE'
JO CORBO
ANDREA CASSARO
Info Party:
Free Entry
Doors Open @ 11:00 pm
Mega Lights & Sound System
Laser Show
Special Security
Photo & Video Service
and many more…
Dress Code: Sunny & Freaky Beach Style
AMA LA MUSICA… DIVERTITI? RESPONSABILMENTE!!!
Please Drink Responsibly!!!
Push The Botton Of The Joy With Us!!!
Special Thanks To:
David Scozzari | Il Nostro Party | Next Event
Official Partners:
Fabric TV | V.O.T.U. Prd. | #GrooveINN | TendenziA | #WePlayHouse
@ OCEANOMARE
Viale Delle Dune | San Leone (AG) | Sicily