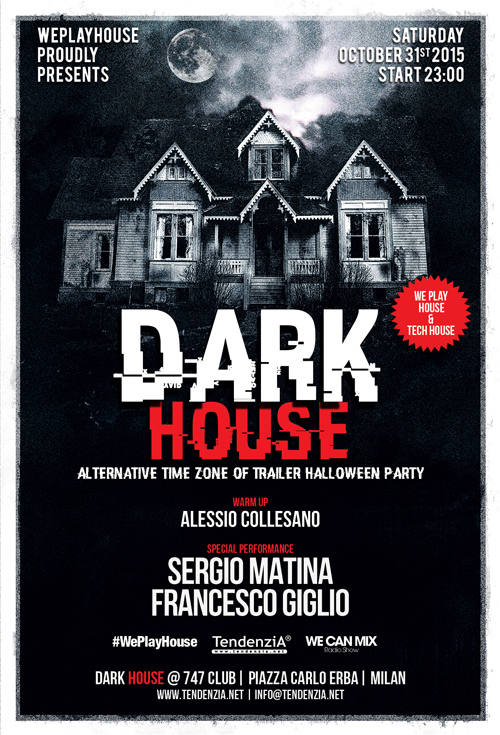 Dark House "The Halloween Party" @ 747 Club

DARK HOUSE "THE HALLOWEEN PARTY" @ 747 CLUB!!!
WePlayHouse
proudly presents
Saturday October 31st, 2015
Dark House "Alternative Time Zone Of Trailer Halloween Party"
(We Play House & Tech House)
Special Performance:
Sergio Matina
Francesco Giglio
Warm Up:
Alessio Collesano
Info Party:
Doors Open @ 10:00 pm
Amazing Sound & Light System
Laser Show
Special Coreography
Special Animation
Special Security
and many more…
Dress Code: Clubbing & Monster Freaky Style
AMA LA MUSICA… DIVERTITI RESPONSABILMENTE!!!
Please Drink Responsibly!!!
Follow us on: www.facebook.com/TendenziA
For more info: www.tendenzia.net | info@tendenzia.net
Special Thanks To:
#WePlayHouse | TendenziA Rec. | We Can Mix
@ 747 Club
Piazza Carlo Erba | Milan | Italy