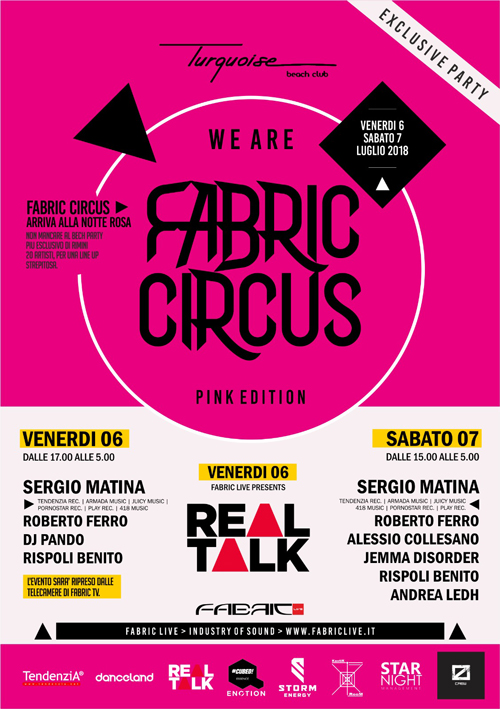 Fabric Circus "Pink Edition" @ Notte Rosa 2018

| | |
| --- | --- |
| | 2018-07-07 |
| | 22:00 |
| | Rimini |
| | Turquoise Beach Club |
| | Google Map |
Fabric Circus "Pink Edition" @ Notte Rosa 2018!!!
Fabric Live & TendenziA Records
present
Saturday 7th July 2018
FABRIC CIRCUS "PINK EDITION" @ NOTTE ROSA 2018
Plus DJ: ROBERTO FERRO | ALESSIO COLLESANO | JEMMA DISORDER | RISPOLI BENITO | ANDREA LEDH
We are waiting for you in the sand area (Turquoise Beach Club) of the Notte Rosa 2018 for a musical journey without borders!!!
LOVE THE MUSIC AND HAVE FUN RESPONSIBLY!!!
#NotteRosa | #Rimini | #FabricCircus | #PinkEdition | #FabricLive | #TendenziA | #PressBeat | #House | #TechHouse | #SergioMatina
Special Thanks To:
FABRIC LIVE | TENDENZIA | DANCELAND | REAL TALK | #CUBED | STORM ENERGY | KAOTIK ROOM | STAR NIGHT | 0 CREW
@ Turquoise Beach Club
Lungomare Claudio Tintori, 6
47921 Rimini