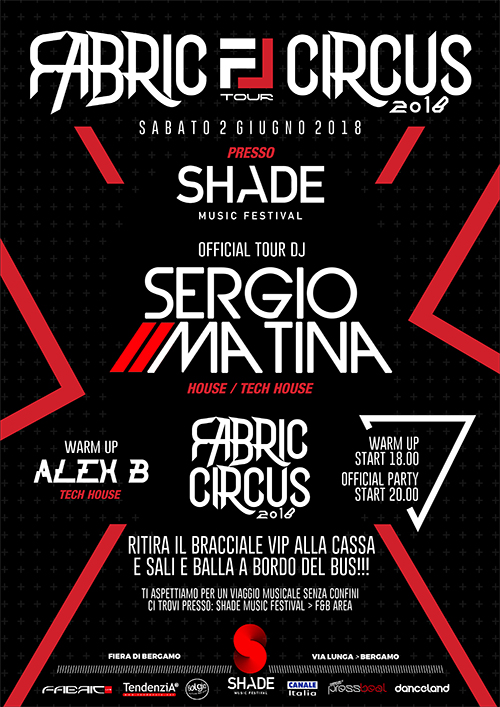 Fabric Circus @ Shade Music Festival

| | |
| --- | --- |
| | 2018-06-02 |
| | 16:00 |
| | Bergamo |
| | Fiera Di Bergamo |
| | Google Map |
Fabric Circus @ Shade Music Festival!!!
Fabric Live & TendenziA Records
present
Saturday 2nd June 2018
FABRIC CIRCUS @ SHADE MUSIC FESTIVAL
Warm Up DJ: ALEX B
Pick up your cuff at the crate and hop on the bus!!!
We are waiting for you in the outdoor area (F&B Area) of the Shade Music Festival for a musical journey without borders!!!
LOVE THE MUSIC AND HAVE FUN RESPONSIBLY!!!
#ShadeMusicFestival | #FabricCircus | #FabricLive | #TendenziA | #PressBeat | #House | #TechHouse | #SergioMatina
Special Thanks To:
Fabric Live | TendenziA | Bolgia | Canale Italia | Press Beat | Danceland Magazine
@ SHADE MUSIC FESTIVAL (Fiera Di Bergamo)
Via Lunga
24125 Bergamo