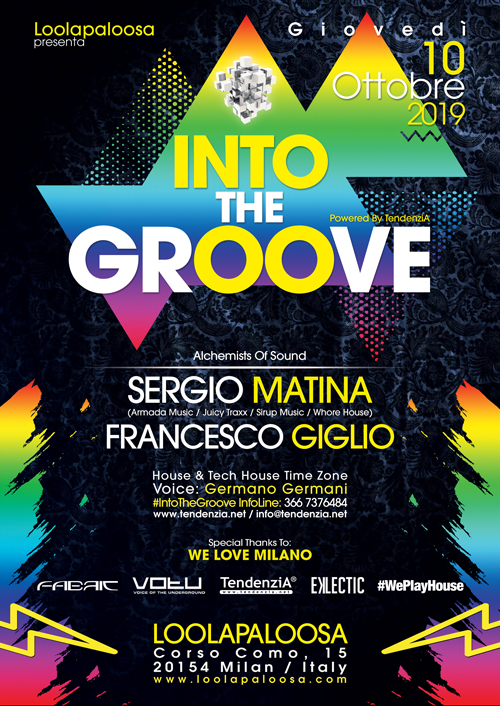 Into The Groove @ Loolapaloosa

Into The Groove @ Loolapaloosa!!!
LOOLAPALOOSA WITH COMPLIMENTS OF TENDENZIA
PRESENT
THURSDAY OCTOBER 10TH, 2019
INTO THE GROOVE "Musical Time Zone" (Powered By TendenziA)
ALCHIMISTS OF SOUND:
SERGIO MATINA (www.sergiomatina.com)
FRANCESCO GIGLIO
INTO THE GROOVE VOX:
GERMANO GERMANI
INFO PARTY:
DOORS OPEN @ 11:00 PM
SPECIAL ANIMATION
MEGA SOUND & LIGHT SYSTEM
GADGETS
SPECIAL SECURITY
PHOTO & VIDEO SERVICE
AND MANY MORE…
DRESS CODE: GROOVY & TRENDY STYLE
AMA LA MUSICA… DIVERTITI RESPONSABILMENTE!!!
PLEASE DRINK RESPONSIBLY!!!
SPECIAL THANKS TO:
WE LOVE MILANO
OFFICIAL PARTNERS:
FABRIC TV | V.O.T.U. PRD. | TENDENZIA | EKLECTIC | WE PLAY HOUSE
@ LOOLAPALOOSA
CORSO COMO, 15 | MILAN | ITALY