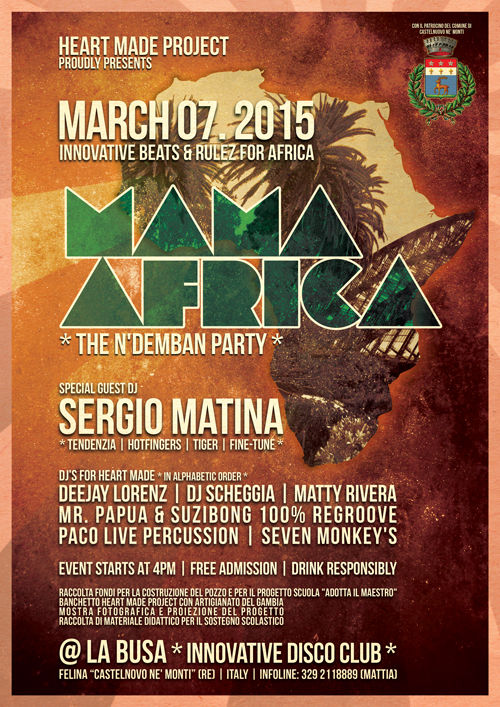 Mama Africa "The N'Demban Party" @ La Busa

| | |
| --- | --- |
| | 2015-03-07 |
| | 16:00 |
| | Felina "Castelnovo Ne' Monti" (RE) |
| | La Busa |
| | Google Map |
MAMA AFRICA "THE N'DEMBAN PARTY" @ LA BUSA!!!
Heart Made Project
proudly presents
Saturday, March 07th 2015
MAMA AFRICA *The N'Demban Party*
Innovative Beats & Rulez For Africa
Special Guest DJ
SERGIO MATINA
(TendenziA | Hotfingers | Tiger | Fine-Tune)
Dj's For Heart Made * In Alphabetic Order *
DEEJAY LORENZ
DJ SCHEGGIA
MATTY RIVERA
MR. PAPUA & SUZIBONG 100% REGROOVE
PACO LIVE PERCUSSION
SEVEN MONKEY'S
Info Party:
Free Admission
Doors Open @ 04:00 pm
Special Sound System
Special Light System
Exclusive Photo Service
and more…
Social Mission Of The Party:
* Raccolta fondi per la costruzione del pozzo e per il progetto scuola "Adotta Il Maestro" .
* Banchetto Heart Made Project con artigianato del Gambia.
* Mostra fotografica e proiezione del progetto.
* Raccolta di materiale didattico per il sostegno scolastico.
Info: 329 2118889 (Mattia)
@ LA BUSA *Innovative Disco Club*
Via Fratelli Kennedy 38/D | Felina "Castelnovo Ne' Monti (RE)" | Italy