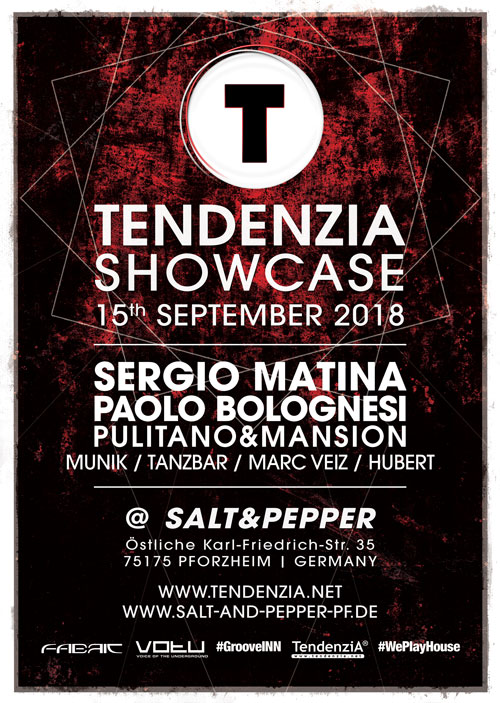 TendenziA Showcase @ Salt&Pepper

| | |
| --- | --- |
| | 2018-09-15 |
| | 23:00 |
| | Pforzheim (DE) |
| | Salt&Pepper |
| | Google Map |
TendenziA Showcase @ Salt&Pepper!!!
Salt&Pepper & TendenziA Records
present
Saturday 15th September 2018
TENDENZIA SHOWCASE
Special Guest DJ's:
SERGIO MATINA
PAOLO BOLOGNESI
PULITANO&MANSION
Plus DJ's: MUNIK | TANZBAR | MARC VEIZ | HUBERT
We are waiting for you in the dancefloor (Salt&Pepper Club) for a musical journey without borders!!!
LOVE THE MUSIC AND HAVE FUN RESPONSIBLY!!!
#TendenziAShowcase | #Salt&Pepper | #Pforzheim | #Germany | #TendenziA | #FabricLive | #PressBeat | #House | #TechHouse | #DeepHouse
Special Thanks To:
FABRIC LIVE | V.O.T.U. PRODUCTIONS | #GROOVEINN | TENDENZIA | #WEPLAYHOUSE
@ Salt&Pepper Club
Östliche Karl Friedrich Str. 35
75175 Pforzheim (Germany)