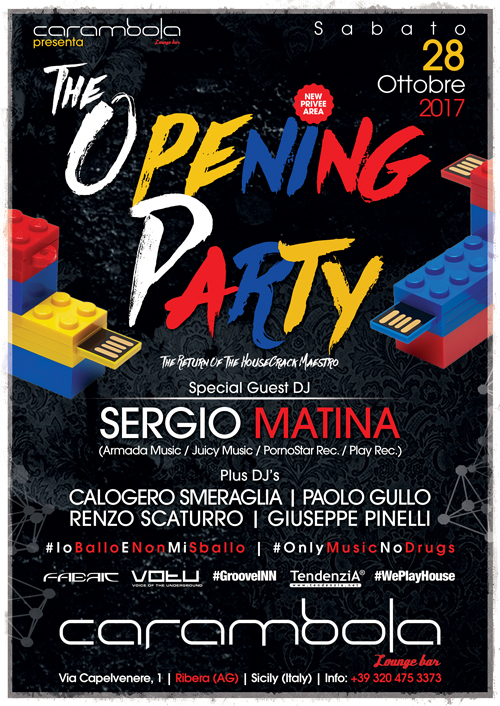 The Opening Party @ Carambola "Lounge Bar"

| | |
| --- | --- |
| | 2017-10-28 |
| | 23:00 |
| | Ribera (AG) |
| | Carambola "Lounge Bar" |
| | Google Map |
THE OPENING PARTY @ CARAMBOLA "LOUNGE BAR"!!!
Carambola "Lounge Bar"
presents
SATURDAY OCTOBER 28th, 2017
THE OPENING PARTY
(La prima notte è quella che non si scorda mai)
Special Guest DJ:
SERGIO MATINA ( www.sergiomatina.com )
(Armada Music / Juicy Music / PornoStar Rec. / Play Rec.)

Plus DJ's:
CALOGERO SMERAGLIA
PAOLO GULLO
RENZO SCATURRO
GIUSEPPE PINELLI
Dress Code:
Fashion & Glamour
Info Party:
Ingresso Libero
Locale Totalmente Rinnovato
New Privèe Area
Special Lights & Sound System
Special Security
e molto altro ancora…
Per info e prenotazioni tavoli: +39 320 475 3373
Un look adeguato e un aspetto curato fanno di te persona ben gradita!!!
AMA LA MUSICA, DIVERTITI RESPONSABILMENTE!!!
Special Thanks To:
Fabric Live | V.O.T.U. | #GrooveINN | TendenziA | #WePlayHouse
@ CARAMBOLA "Lounge Bar"
Via Capelvenere, 1 | Ribera (AG) | Sicily